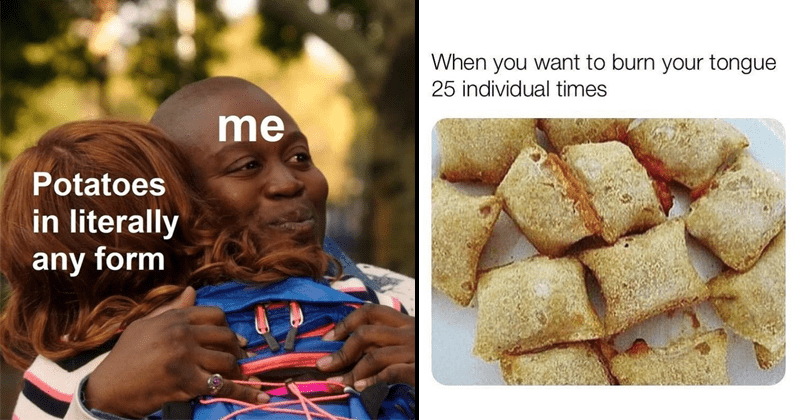 1
1. On second thought, I'm good
Hopefully they've been on the Purell tip.
Advertisement
2
2. Bread balls really used to hit different.
Maybe that childhood hand grime took this "dish" to the next level.
3
3. Every kid's favorite beverage
Do I taste a hint of paprika in there?
4
4. Is this a new kind of bulletproof coffee?
This person woke up and chose violence
Advertisement
5
5. Bottoms up.
The "z" stands for zesty.
6
6. A true blast from the past.
That sugar water had kids bouncing of the damn walls.
7
7. The pizza Lunchables were better
You were definitely privileged if you brought Lunchables to school.
Advertisement
8
8. Where's the lie?
A weeaboo's perfect date? Ramen, anime, and a cuddle sesh with the waifu body pillow.
9
9. I'm going Febreeze freeze.
None of these options are as toxic as the Dick Cheney forehead ice cream.
10
10. I wonder why
This had better be a troll
Advertisement
11
11. It's a toxic french dip.
Blue food is supposed to be good for you, right?
12
12. It'll put some hair on their chest
Got to start them on the spicy stuff young.
13
13. Just one of the many reasons we love Publix.
I mean, these cakes are next level.
Advertisement
14
14. Olives as meal replacement
They're not that terrible for you, just watch those sodium levels.
15
15. This person is using 100% of their brain
Has science finally gone too far?
16
16. Well, she gets points for creativity.
But we're no sure if we'd want to eat this…project.
Advertisement
17
17. It's an apple, but hot.
Double the doctor avoidance powers.
18
18. The marketing team behind Avocado needs to mix it up
These balls are getting pretty old.
19
19. The heels are the most understood slices of bread.
Take pity on their neglected and rejected souls
Advertisement
20
19. It's all about the power of choice
The smell of rotting kale haunts my brain.
21
21. Ah, a charcuterie spread for 5 year olds.
Someone needs to tell them that you can buy some real deal cured meats for the same price.
22
22. I know it smell crazy in there.
This revolting spread definitely triggers that public school lunch PTSD.
Advertisement
23
23. This place was always legit
Support small businesses.
24
24. Some people want to watch the world burn
There's no way that's a good texture.
25
25. We're all experts from the comfort of our home.
Advertisement
26
26. Okay, this is definitely a food crime.
Don't you dare call this sushi.
27
27. There's actually a Chrome extension for this.
It's called Recipe Filter and oh my god, it's saved us so much time. You're welcome.
28
28. Shoot it right into my mouth
Time to get totally soaked
Advertisement
29
29. What Gordon Ramsay says goes.
We don't make the rules. He does.
30
30. Spitting truth
This stuff is definitely toxic
31
31. It's not even close
It always seems like a good idea. Until it goes out the other end.
Advertisement
32
32. Boiled hot dogs are sus
33
33. Appetite: Lost
That's one way to lose weight (by vomiting)
34
34. Finally!
This is the product we've all been waiting for
Advertisement
35
35. Potatoes won't hurt you like your ex did
Potatoes are loyal and consistent.
36
36. Emergency tots are clutch
37
37. Don't test me
I'll eat my plate and yours
Advertisement
38
38. Take it to the next level by adding some oregano
Don't forget the red pepper flakes
39
39. There's always a sob story
And there's always a blunder
40
40. Why don't we call them this?
The best fries deserve a name of this caliber.
Advertisement
41
41. It's treason
And they must be punished
42
42. This isn't a game, it's art
How could anyone eat this masterpiece?
43
43. Not for long.
These leftovers are not long for this world
Advertisement
44
44. Nothing better
Let the happiness commence.
45
45. This is way better than some dead flowers
46
46. It's all about plating
Gotta have some kind of smear or drizzle. It's the law.
Advertisement
47
48
47. Why god, why
Look how they massacred my boy
49
48. Big Pumpkin Spice must be stopped
This craze has been out of control for a very long time
Advertisement
50
50. They couldn't be more different
Just buy a freaking lemon
51
51. Such a treat
Wish we could bottle that smell.
52
52. It's the perfect date
Hopefully they're not offended by garlic breath.
Advertisement
53
53. Hanger is totally real
And I am desperately sorry for the pain I cause my friends and family when hungry.
54
54. Who's gonna tell them?
Honestly, it's not that bad. Sweet and salty, baby.
55
55. You're not the boss of me
I'll eat as much as I want
Advertisement
56
56. Mmm, salmonella
That's one way to eat dessert and lose weight.
57
57. Planning is important
58
58. This is the worst feeling ever
It's worthy of an extreme punishment

Advertisement
59
59. It me
She has the right priorities.
60
60. It's basically dieting
Ice cream is such an amazing vice.
61
61. Snacks are clutch
It's good to go with foods that don't shed crumbs.
Advertisement
62
62. But they're worth it
63
63. Only children really have it good, kid
"Sharing is caring" got old a long time ago
64
64. Just…why
This is a sin far greater than Hawaiian pizza.
Advertisement
65
65. Mmmm, grass
Hey, getting roughage in one's diet is important.
66
66. Lifting a burger is good exercise
If you buy enough quarter pounders it's like lifting weights
67
67. It's just so wasteful
I would be going ham on that spread
Advertisement
68
68. What do strawberries know?
You think tomatoes will go to the dark side?
69
69. It gets us every time
Why can't they make these things easy?
70
70. Pizza and breadsticks, the loves of my life
"You are…so beautiful…to me…"
Advertisement
71
71. Consistency is difficult
How can we say no to cookies?
72
72. Didn't ask, don't care.
Miss me with those numbers
73
72. Define "diet"
Advertisement
74
74. Every damn time
It's almost as though the pot is taunting me.
75
75. Spitting the truth
8 inches doesn't cut it in the pizza department.