As an aside, it should also be noted that the Heaux Collection minted meme-inspired, female archetypes prior to the "Big Titty Goth Heaux." On September 10th, 2021, they minted "Trad Heaux," in reference to the Trad Girl meme, and on September 12th, 2021, they minted, "Gamer Heaux," among others.
People on Twitter reacted to "Big Titty Goth Heaux" after it sold so quickly. Twitter user @ebruenig tweeted on November 21st, 2021, "think thats pretty much a wrap on western civ. president jinping, fire at will." Her tweet (shown below) received roughly 9,600 likes over the course of one day.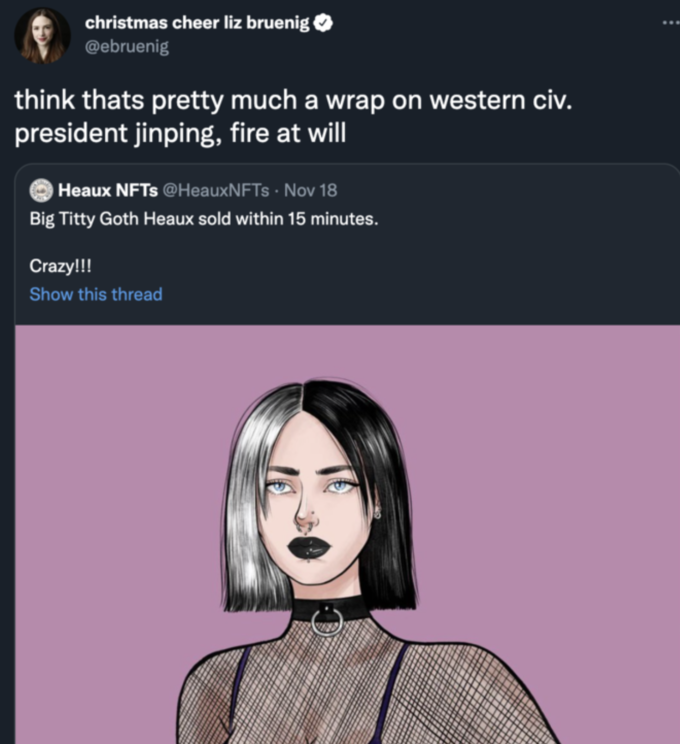 Instagram meme accounts reposted screenshots of a Heaux NFT tweet that was posted on November 18th, 2021, but later deleted. The screenshot is a tweet from the account that talked about how Heaux NFTs could be rented out for other users to have sex with as a way to mitigate incels' sexual aggression. Instagram account @incellectuals8 posted a screenshot (shown below) on November 18th, 2021, and received 710 likes over four days.