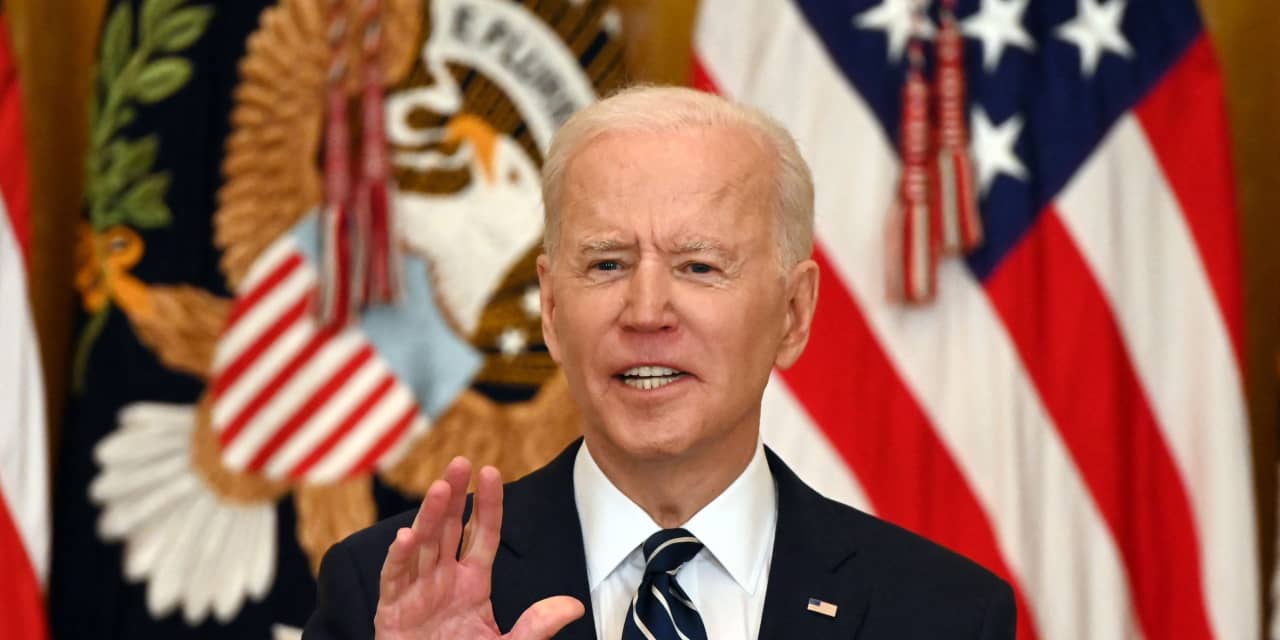 U.S. stocks were trading higher Wednesday midday, as investors awaited a speech from President Joe Biden outlining a multitrillion dollar infrastructure spending plan that's expected to include higher taxes on corporations.
What are major indexes doing?
The Dow Jones Industrial Average DJIA, +0.17% added 22 points, or 0.1%, to trade near 33,088, after boucing between small gains and losses.
The S&P 500 SPX, +0.87% rose 29 points, or 0.8%, to 3,988.36, after touching an intraday record of 3,988.91.
The Nasdaq Composite jumped 246 points, or 1.9%, to 13,291.
On Tuesday, the Dow fell 104.41 points, or 0.3%, to close at 33,066.96, a day after eking out a record close. The S&P 500 fell 0.3%, while the Nasdaq Composite edged down 0.1%.
What's driving the market?
The S&P 500 index hit a new intraday trading record ahead of Biden's planned speech to unveil the first part of his "Build Back Better" plan in Pittsburgh later Wednesday.
An outline of the proposal released by the White House ahead of the speech detailed more than $2 trillion worth of infrastructure investments, with a focus on bolstering roads, airports, safe water supplies, greener technology and more. It would be offset by raising the tax on corporate income from 21% back to 28% after being cut in 2017 from 35% to 21%.
Read: Here's what's in the White House infrastructure spending and corporate tax hike plan
News reports said the size of the plan could further rise to $4 trillion as additional parts are announced, offset by increases in tax rates on the wealthy and investors.
Need to Know: Wall Street is pricing in $4 trillion of infrastructure spending. Here are the stocks that could benefit, according to Bank of America
"We have always been of the opinion that markets never believed President Trump's corporate tax cuts would be permanent. Raising them to the old levels would therefore not change our bullish outlook," said Nicholas Colas, co-founder of DataTrek Research, in a note.
"Changes in individual tax rates, especially those related to capital gains, are another matter. Given the outstanding gains of the last few years, especially in speculative tech stocks, changes in cap gains would certainly cause taxable account selling with no near-term offset in demand," he wrote.
The infrastructure plan comes less than a month after Congress passed a $1.9 trillion package of COVID relief spending. The fiscal stimulus has boosted inflation expectations, which have been cited as a cause of a bond-market selloff that has sent the yield on the 10-year Treasury note to its highest since January 2020. That's put pressure on tech shares and other growth-oriented stocks.
Yields pulled back on Wednesday, however, with the 10-year Treasury rate TMUBMUSD10Y, 1.722% down 2 basis points at 1.72%.
Peter Andersen, founder of Boston-based Andersen Capital Management, told MarketWatch he's been "frustrated" watching the outsize hold that bond yield moves seem to have on stocks, especially in the face of what Andersen expects will be a healthy consumer-led rebound as vaccines roll out.
"In the short term we're in for more volatility until market participants finally realize that the economic recovery is going to take its own path," he said. "We've never experienced anything like this before so there are no rules of thumb about what should happen. The closest thing I can model is World War II."
Andersen thinks any infrastructure spending is largely priced into stocks, but said, "I welcome the focus on the industrial sector. I think it's a welcome shift away from distractions like Bitcoin, lockdown stocks, and space travel and I do think that sector deserves its day in the sun. It will give a little more balance and rationality to the market."
In U.S. economic data Wednesday, payroll-processing company ADP showed private-sector payrolls jumped by 517,000 in March, in line with the 525,000 consensus forecast. It was the largest gain in six months. The government's March jobs report, due Friday, is expected to show a surge in payrolls.
The Chicago purchasing managers index for March was at its highest in 2 1/2 years, but pending home sales slid 10.6% in February, the National Association of Realtors said.
Which companies are in focus?
What are other assets doing?
Read next: How a rallying U.S. dollar could wreck the stock-market reflation trade