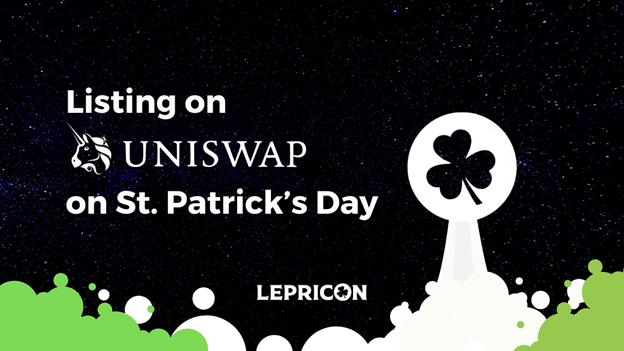 There is a new game in town, and it seems to have the luck of the Irish, especially as they will list their token on Uniswap on St. Patrick's day.
Choosing such a lucky date to debut might explain why the team behind Lepricon, a blockchain-based gaming platform for prediction games, found themselves closing out their seed and private rounds in just a few short days, ending the process seven times oversubscribed,
"Once word started getting around about what we were doing and why we found ourselves inundated in instant messages and emails from potential investors," recounts Stephen Browne, Co-Founder & COO. "We flew past our soft cap in under a week, and shortly after, we sold out. We just have the public sales to go, and we will hit our hard cap."
The question is, why all the interest? There are two possible reasons.
First, Lepricon is not just another DeFi service aimed at the core crypto community. Their core business is games. As Founder & CEO Joshua Galloway explains, "We think gaming is the first killer app that will take blockchain mainstream."
He continues, "Gamers understand in-game currencies and rare and unique game items. It's easy to lead them from there to cryptocurrencies and NFTs. Once they are playing games with our in-game currency, L3P, then we can introduce them to the Defi elements of the platform and show them how to swap and stake it."
The second reason is far more human. The team behind Lepricon is experienced and makes a point of being anything but anonymous. If you add up the CEO, COO, and CMO ages, you get more than 130. They asked that we not be too precise! Galloway has over 20 years of experience in video games, from AAA studios to mobile and social casinos. Browne is a former barrister and has worked in the digital asset space for some years now. Phil Ingram, Chief Marketing Officer, who describes himself as a survivor of the original dot com boom, has 30 years of marketing and brand development experience.
Lepricon has also pulled together an impressive crew of experts to act as advisors. They include video games advisor Frank Yu, who oversaw the original Xbox launch in Asia; Jacky Lee, a project lead on the NFT early comer Cryptokitties; and Andrew Pearson, one of the world's leading experts and published author in prediction markets.
So, what exactly is this highly experienced team doing?
As Galloway describes it, "Lepricon offers both sides of the Telegram channel